Carpet Protector Treatments | Hobbs, NM
Protector Treatments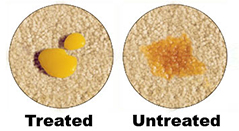 First of all let me say this;  Protector treatments are not a magic bullet to keep the carpet or upholstery from re-soiling,  neither will they  totally prevent spots caused by spills.  But they do play an important part in the overall appearance and wear of the carpets. That is the reason that most of the better quality  carpets  are treated at the mills with protector treatments.   Protected carpets will look cleaner longer and will add significantly to the life of the carpet.  Considering the extended life of a protected carpet, the price of a protector treatment will pay for itself many times over.
How they work
Most protector treatments like Scotchgard™ and Dupont™  provide protection by creating a shield that keeps liquids from penetrating the fiber.  Often you will see the liquids will bead on the surface of fibers.  By immediately blotting and or rinsing the spot you can avoid the liquid to stain the fibers.  These protectors buy you time so you can wipe the spills before they penetrate the fibers.  They will also make it easier for dry soils to release with the regular vacuuming of the carpet.  This is important because it is often those dry soils that act like an abrasive and prematurely wear out the carpet.
Maxim Advance™ works differently in that it does not cause liquids to bead on the top but by blocking liquids from penetrating the fibers.  Also has both oil and water repellent and excellent dry soil release. For more information…
Green Guard™   is another protector that is gaining popularity.  First, it carries a Green Seal of Approval which means it has been tested and approve to be safe for humans, animals and the environment.  It works on the principal of encapsulation.